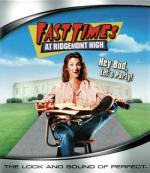 You know. I had never seen this movie in one setting before - only bits and pieces on TV or at a party. Since it was only $5 during an Amazon.com closeout of HD DVD's, I decided to snag this.
Like The Breakfast Club,
Pretty in Pink and Ferris Bueller, FT@RH is one of those movies often referred to for both its comedy and its realistic portrayal on being a teenager in the 1980's. After having watched this I do have to admit I preferred it to TBC, but Ferris Bueller and it's TV show spin-off Parker Lewis Can't Lose will always remain #1 in my heart.
FT@RH is a look at life at a California West Coast High School, and although it has little in common with the book written by Cameron Crowe, the movie is both funny and melancholic at the same time. Everything from stupid teenage dating, to teen pregnancy to what friendship is about to even the importance of education is brought up and treated on a multitude of levels. Although the clothes are out of style and the hairdos contained within are thankfully dead and buried, the lessons the movie tries to teach while intermingling them with comedy are still as true today as they were back in 1982.
Although Sean Penn's surfer stoner character is given top billing, the movie is best described as an ensemble cast with Jennifer Jason Leigh and the Honourable Judge Reinhold playing the Hamilton siblings and getting the most on camera time. Stacy Hamilton is by far my favorite character, as you see her deal primarily with the difference between infatuation, lust, and love which most teenagers (myself included when I was one) are unable to discern between. I was also surprised to see the amount of nudity and sex in the as I didn't expect it. Especially from these now famous actors and actresses.
It's interesting to see how both the director and screenwriter went onto entirely different paths. The director, Amy Heckerling, went on to direct Clueless, which was a modernization of Emma and Cameron Crowe went on to write Almost Famous. Many of the actors went on to have long, but unmemorable careers save for Sean Penn, who is most remembered for doing a lot of bad movies, some Oscar Award nominated movies, and marrying Madonna. Also rage issues.
Although the movie looks dated, it's still a fun watch. I only wish I had seen it when I was younger so it would have more of a nostalgic effect on me.
Is It Worth Keeping? Yes
Rating: 6.5/10