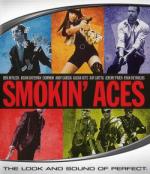 Wow. What a steaming pile of crap this was. Now I like both the Ocean's and Bourne trilogies and this seemed like it would be akin to that, especially with a fun cast like Jeremy Pivens and Ryan Reynolds. What I overlooked that the Affleck factor. Aside from being the bomb in Phantoms, Affleck being in a movie pretty much guarantees it will be a work of suck. It's as much a truism as the Caine-Hackman theory.
So here's the plot - more or less. The FBI has this member of the mob played by Jeremy Pivens, who is looking to squeal in exchange for protection. In turn, the head of the mob family has offered 1 million dollars for his heart. Enter a wacky collection of killers ranging from a sexxed up Alicia Keys to a triad of characters stright out of The Road Warrior. Ryan Reynolds in the leade rof an FBI team trying to protect Buddy Israel (Pivens) while he stays at a hotel. Of course, all hell breaks loose. Well actually, all hell breaks loose in the last 30 minutes of the film. The other 90 minutes are just talking heads, which is fine, except characters aren't being established - it's all just back story and exposition about things you would have to understand in order for the plot to make even the slightest bit of semblence. Background on the characters, the killers, and a retarded tweener wigger with one eye and a karate gi.
What follows is the biggest convoluted piece of crap I've seen in a long time. Yes, it's hip and stylish, but there are so many swerves and fake deaths and face/heel turns that it's basically every episode of WCW Nitro written by Vince Russo crammed into one movie. Everything and anything that happens is so utterly implausible, it makes bits from In the Name of the King look realistic. The ending is so out of left field and batshit stupid, that you are just happy the credits are rolling. Basically the entire movie is two hours of stupid misunderstandings interchanged with the occasional death or severe wounding, with a large dose of people talking about things that neither advance the plot of define the characters. I still have no idea how three Mad Max refugees managed to a) get by the FBI b) infilitrate a heavily guarded hotel and c) not get killed instantly.
Smokin' Aces tries too hard to gives surprises for the sake of surprise. Oh that's character's not really dead. Oh that character's actually evil. Oh, now there's a government conspiracy. Oh, now you're supposed to care about this character even though they were a bad guy. Oh wow, it turns out the FBI wiretapping service is made up of people with the IQ of sticks. Whoops. Our bad.
Just a shitty, shitty movie. It is pretty though and Ryan Reynolds does his best acting job yet. Too bad he doesn't say "Cockjuggling Thundercunt."
Man, how many obscure references were in this review?
Is It Worth Keeping Fuck no.
Rating:2/10