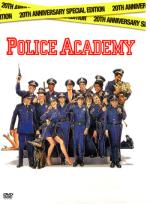 Police Academy is one of those movies that would never be made in 2009. It's got a lot of race jokes, a lot of gay jokes, and a Porky's like quality that would offend today's PC audience compared to when it came out in the 1980's where rude, crude, and lewd, was what comedies were all about.
I'll admit I loved the Police Academy series a a single age child even though I completely missed the prostitute giving Commadant Lassard a hummer in the podium jokes. To my young innocent naive self, the Police Academy movies were hilarious. I loved how in every movie, even when in Miami and Moscow, the bad cops would always end up at The Blue Oyster Bar! It was hilarious. It was only a few years later I learned that it was a gay biker bar and it was funny because they were gay bikers, not because it was meant to be a Bugs Bunny-esque "Look how many times I can get Harris and Proctor to make the same stupid mistake. Nyuk nyuk nyuk."
I went into this expecting it to be god awful and to have aged poorly. Yes, the young child version of myself enjoyed slapstick and giant robots slaughtering each other, but surely, SURELY the adult mature sophisticated version of myself would look upon this movie and its antics with disdain, right?
Well, no. Not Really. No, it's nowhere as funny as when I was a child. Norvell Jones' (Michael Winslow) sound effects just don't hold up in 2009 and although it was super cool that anyone could do that in say, 1985 when I first watched this on HBO (and saw boobies outside of a documentary!) it lacks the same panache for my 31 year old self. At the same time, some things never get old. Tackleberry's crazy ass violence streak. I'm always liked the psychotics with a heart of gold characters. This is probably why my favorite Green Lanten is Guy Freakin' Gardner. Plus you know, Blue Oyster Bar. It's like they just keep taking that wrong turn at Albuquerque.
If someone is reading this and has never seen Police Academy, you are either a liar or under 21. I don't think it is possible to have made it to adulthood and not have seen a Police Academy movie in my generation. They were always on. Now, although the quality of the movies ranged from, "The perfect example of everything that was both right and wrong with early 1980's comedies" to "HOW THE FUCK IS THIS STILL GOING ON?" the first PA is still the one that started it all.
Here's the plot: Okay, this city? They're totally insane to the point where they elect this BROAD as a mayor. Can you believe it? A Dame holding public office. Laugh riot already baby! Then she goes and proves women aren't fit to lead by opening up the Police Academy to all sorts of people, like black people and women and ethnics. ETHNICS? HAHAHAHAHAHA! Ethnics as officers is funny. Yes, this is really the premise of the movie, complete with that level of sexism and racism. However, before you get all up an arms, realize that this mov ie is making fun of these conservative beliefs by making all the bad guys sharing this mindset. The good guys are proving that strict conservative Reganite values are wrong and outdated.
Now, as much as I like the theme of the moving proving them women and minorities are equally capable in the field of law enforcement, I also like that not all conservatives are villified automatically. Office Callihan, the female drill instructor, becomes a likeable character and even pussywhips the latin lover character from the show. It's a weird movie that bashes the Reagan era while also being a perfect example of what the 1980's were all about.
Sure the movies not as funny as it was when I was eight and all you needed to do was fart and your entire second grade glass would snicker, but you know, I still laughed at this. Yes, I laughed out of nostalgia and because it was so bloody stupid, but I still laughed. There are so many memorable characters. Triggerhappy Tackleberry. Wisecracking Jones. Quite lil' Hooks. Evil Lt. Harris. That wascially scamp Carey Mahoney. Bad ass Hightower. Yes, in writing this I'm a bit mystified that these character are in fact, 80's icons…but they are. This series spawned seven movies and two TV series, with Police Academy VIII coming out in 2011. Somehow, this franchise still has life.
So a quarter of a century after it first came out, there is only one question to ask: Is Police Academy still enjoyable? As much as it surprises me to say so, I rather enjoyed it for what it was; Entertaining Crap. It's a dumb loud, stupid movie devoid of any real charm and the script constantly changes how many weeks the recruits are supposed to be at the police academy, but there's something timeless about this film, mostly likely due to nostalgia. I can't say the movie is good by any stretch of the imagination, but I did watch it with a smile on my face and the memory of an innocence long since lost to polar bear porn, mario sex, and a score of crying stalking ex's.
I believe I will keep Police Academy, if only to remind me of simpler times, when a movie just needed brown show polish and a megaphone to make people laugh. It'll be a late night 2am movie to watch with friends that are far more drunk than my straightedge laugh. No doubt we will once again laugh at the stupidity that Police Academy exemplifies.
Also, the movie has a great score. Not only is the theme song of the movie highly memorable, but "El Bimbo" is one of the most recognizable songs of our generation. We ALL know the Blue Oyster Bar song. Hell, it's even a playable track in Samba De Amigo.
God help me,. My longest DVD review so far is Police Academy. The worst part? I could have pontificated for several more paragraphs. Let's instead save that for the comments you will all no doubt leave me for this.
Is It Worth keeping: Yes.
Rating: 5.5/10 (7/10 if you are a male between the ages of 7-9)
P.S. The Best Robot Chicken skit besides Ted Turner becoming Captain Planet.