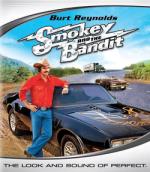 To be honest I had never seen this before. I have seen the TV movies and the god awful Smokey and the Bandit III. This however was entertaining crap. It was stupid, nonsenscical and implausible, but pretty entertaining and sported a really fun cast of Burt Reynolds, Sally Field, Jackie Gleason and Jerry Reed who i will always remember from "The New Scooby Movies" where he sang "Pretty Mary Sunlite" for two damn episodes forever entrenching the song in my skull forcing me to carry it with me on my Ipod to this day.
Now where was I.
Oh, Smokey and the Bandit is a movie that is based on a premise that no longer exists today. At the time of filming, it was illegal to transport Coors east of the Mississippi River. I don't know why, but I do know this fact and it is the only piece of beer related trivia this straight-edge superstar knows. Burt Reynolds and Jerry Reed are bet 80,000 dollars (With inflation that would be nearly $300K today!) that they can't ship 400 cases of Coors from Texarcana to Atlanta in 28 hours.They take the bet and what follows is pretty much the adventures of a semi and a Pontiac (do they still build excitement?) Trans Am bootlegging with a quick stop here and there for food and picking up runaway bride Sally Field.
Eventually Sherrif Buford T. Justice, who is apparantly sheriff of ALL of Texas starts to chase them because his son was Sally Field's groom. Hilarity, car chases, car crashes, and a look at the CB culture of the 70's. It's bascially the Three Stooges with speed (As in motion, not drugs) and the ending is inspidly stupid and sets things up for a sequel, many of which happened, but none of which used the dangling thread provided here.
It's hard to believe that this was the second highest grossing film of 1977, only beaten by Star Wars (albeit barely). I definitely preferred The Cannonball Run to this, mainly due to the ensemble cast, but this is just so over the top and the cast has such charisma together than you can't help but love it.
Pity poor Jerry Reed though. After all his Smokey and the Bandit films, he went on to be the evil coach in The Waterboy.
Is It Worth Keeping Yes, mainly due to the quality HD DVD transfer. It's impressive to see the difference in quality between this and most 1970's film. This really proves what a remastering of a film can do.
Rating: 5/10