X 3/28[Thu] Final Weekly Chamber-Don't let Luddites Win[18+]
Sorry Moderator, this final weekly Episode is worthy of it's own thread on the Event Page.
This is the final weekly installment of Chamber @ Bolt Underground. The Epic Weekly installments will be drawing to a close with an Epic Finale.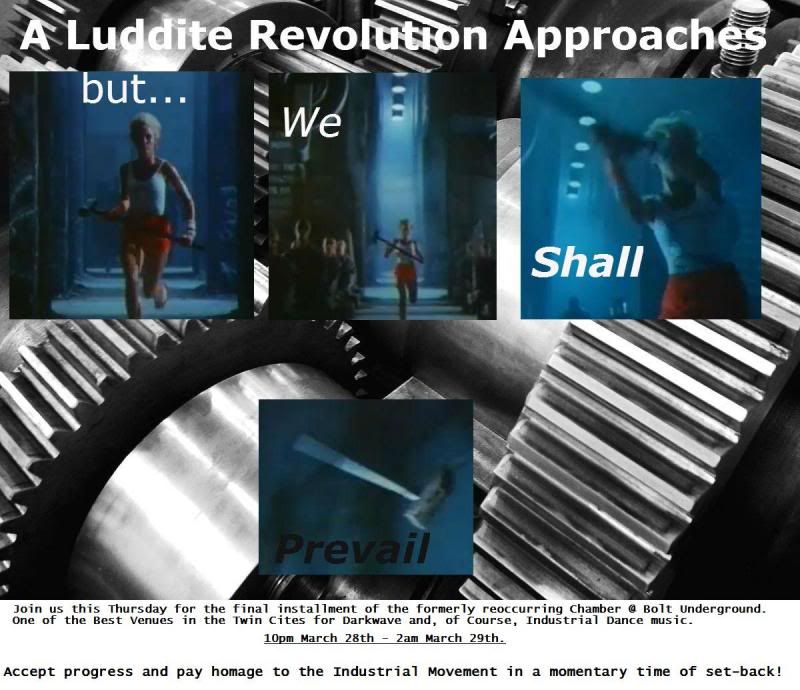 If you have any appreciation of Industrial/Darkwave/ and Guy-Liner Trance you'll be there too.
Name : Chamber
Night : This Thursday - Final weekly Installment!!!
Venue : The Bolt Underground
Address : 501 Washington Ave. S. Downtown Minneapolis, MN 55415
Cover : No cover
Time : 10:00pm - 2:30am
Age : 18+
DJs : dv8, Fenris, K.M. and Skw33k
Music : Requests, New Releases, & Old school classics that just don't seem to get played anymore.
Drink Specials : There are some I just don't recall what they are.
Contact :
chambermpls@gmail.com
http://www.facebook.com/events/634037299946055/