X 5/16[Wed] Garbage album release party, Club Jager 9pm 21+
To celebrate the release of Garbage's new album, Not Your Kind of People, Across the Board's DJ SLT and Aztalan Turf Podcast are hosting a PRE-TRANSMISSION album release party.
We'll be playing the album from start to finish,
hitting "play" at 9 pm sharp!
We'll also be giving away copies of the album.
What: Garbage Not Your Kind of People album release party
Where:
Club Jager
, 923 Washington Ave. N, Minneapolis
When: Wednesday, May 1
6

|MODERATOR NOTE: fixed typo
Time: Album starts playing at 9 PM SHARP!
Cost: Free
21+
Facebook Event Page
Come for Garbage, stay for TRANSMISSION. Or come early to TRANSMISSION to hear Garbage.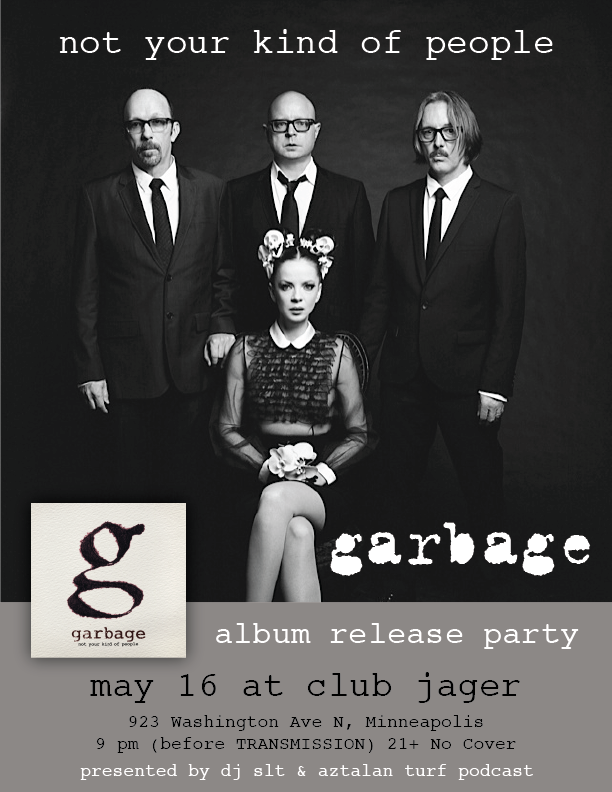 Here's a preview of Control:
This week only, you can get the opening track, Automatic Systematic Habit, for
FREE on iTunes
.
This event is an unofficial album release party and not officially associated with Garbage.